"Food, clothing, housing and transportation" has always been a necessity in our life, and the demand for clothing is growing, which also makes the clothing label industry develop continuously. In order to make it convenient for customers to quickly find the right size, in addition to the tag and washing mark, the major brands also use the form of stickers to paste the size on the clothes, so as to bring more convenient shopping experience to customers.
Kunpeng has been committed to developing high-quality labels, constantly improving the safety and stability of labels on textiles, and greatly reducing the damage of labels on textiles.
Many clothing labels are easily rotten during tearing. Kunpeng can provide suitable surface materials with softness and stiffness according to different textiles, such as transparent PET, transparent OPP and dumb White PP synthetic paper. The material has excellent printing performance, chemical stability, corrosion resistance, and is not easy to deform. It is not easy to tear after repeated lamination. In addition, the technical department conducts repeated pasting tests on various textile fabrics to ensure that the label does not damage the surface and shape of the textile fabric during peeling, and minimize the damage of the label to the textile fabric without leaving glue spots.
The clothing labels produced by Kunpeng can be applied to all clothing categories. Please call us and we will serve you wholeheartedly!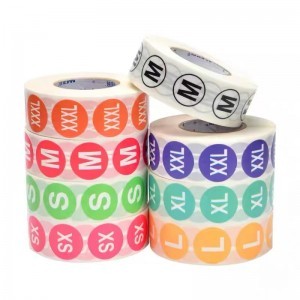 ---
Post time: Aug-25-2022