In life and work, you can see labels. Different kinds of labels require different materials and production processes.
Before using different types of labels, it is very important to test the type of adhesive to determine whether the adhesive is self-adhesive, hot sealant or adhesive coated paper. Some adhesives react chemically with specific substances. For example, under certain conditions, self-adhesive labels used as signs may contaminate some special fabrics. Some labels that require a short viscosity will produce a long-lasting viscosity under exposure conditions. On the other hand, some labels that require long-lasting viscosity will lose viscosity on some surfaces.
Problems often occur when self-adhesive labels and other labels are used on the surface of recycled paper. In the process of recycling, there are many different kinds of paper, some of which will be contaminated by silicon or wax coating, so the mixed processing will pollute the final recycled products. When labels are used on the surface of these contaminated recycled paper, the adhesive often loses its function.
The low temperature reduces the bonding speed and the label may peel off from the surface before the adhesive adheres to the surface. If the temperature difference in the environment is large, the humidity fluctuates greatly or the label is placed improperly, the viscosity of the label will soon be lost.
Warm tip: many people mistakenly remove the label from the left and right corners, which will weaken the viscosity of the dry glue in the contact part, and also damage the surface fiber in the material, making the label curl. The correct method is to keep the label straight as far as possible and peel the backing paper from the center of the top or bottom to ensure that the label is well adhered to the surface of the object.
The label is a very common and practical advertising label. Ningbo Kippon Printing Co., Ltd. has advanced technology and machinery. We will serve you wholeheartedly and look forward to cooperating with you!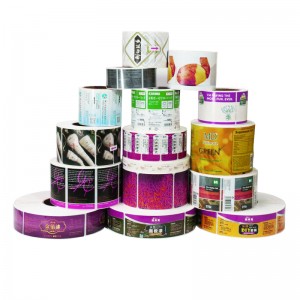 ---
Post time: Aug-11-2022